Filter by Category
Our Classes
K-2 Programs #8: A Dahl's House

Next available session starts Aug 2, 2021 at 9 am

, runs for 1 week
K-2 Programs #8: A Dahl's House
Creative Drama | Music | Design | Outdoor Team Time
Dates: August 2-6, 2021; Monday-Friday 9am-4pm
Price: $350
Let's take on giants, witches, giant peaches, and magical chocolate factories in a week of wonder and imagination! Using our design, singing, and acting talents we will embrace the whimsical worlds of famed author Roald Dahl to create a celebration of his characters.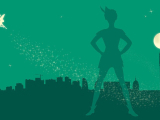 K-2 Programs #9: Never-Neverland

Next session starts Aug 9, 2021

, runs for 1 week
1 additional session on Aug 9, 2021
K-2 Programs #9: Never-Neverland 
Creative Drama | Drama Games | Scene Design | Outdoor Team Time
Dates: August 9-13, 2021; Monday-Friday 9am-4pm
Price: $350
Think lovely, wonderful thoughts and a bit of pixie dust will have you flying to a land of Pirates, Mermaids, a Ticking-time crocodile, and more! Collaborate with your classmates to design a Neverland backdrop and create your own original adaptation using the characters from the classic Peter Pan tales. Away we go!